For each column, the answers are from a specific set of letters that correspond to a particular up-down-left-right control scheme indicated by the image on the bottom.
The different controller schemes & letter sets are:
Column 1:
ULDR (directional pad)
 U
L R
 D

LUDD  (19th century enemy of robots)
UR    (Sumerian ziggurat city)
LLULL (Catalan logician)
DDR   (popular rhythm game)
DR    (abbr. for physician)
RUDD  (actor Paul)
DUD   (unexploded ordnance)
DLL   (shared library extension in Windows)
LULU  (Red Hat founder's publishing firm)

++++++++

Column 2:
2486 (number pad)
 2
4 6
 8

8   (lucky number in China)
666 (number of the Beast)
44  (caliber favored by Dirty Harry)
42  (answer to life, the universe, and everything)
2   (even prime)
22  (SSH port)
28  (two-digit perfect number)

++++++++

Column 3:
WASD (keyboard controls on left hand)
 W
A D
 S

WSS (secure WebSocket prefix)
SAD (not happy)
ADA (first computer programmer)
AWS (cloud computing platform based in Seattle)
WWW (common acronym for the web)
DAD (father figure)
ADD (to increase)

++++++++

Column 4:
NWSE (cardinal compass)
 N
W E
 S

NESS  (Earthbound protagonist)
ESSEN (German infinitive for "eat")
NEW   (recent)
EWE   (a female sheep)
NEWS  (current events)

++++++++

Column 5:
XYBA (SNES controller)
 X
Y A
 B

XX   (twenty in Rome)
AYA  (bride of Shamash)
BABY (very young child)
YAY  (exclamation of joy)
BABA (puzzle game protagonist who is you)

I would have liked to use HJKL – standard vim keys, but there are no vowels, so we couldn't construct words from them :(
After getting the lists of controls, you can use them to trace out a path, hinted at by the grid paper background.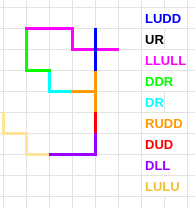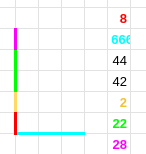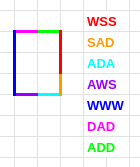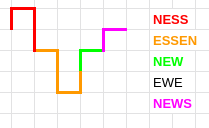 Answer: GLOVE #